Other Brands
Perhaps the most important thing creative director Alessandro Michele has brought to Gucci during his short tenure at the brand's helm is a feeling of abundance. His collections are enormous, his lookbooks are rich in set detail and styling and the clothes and accessories themselves are lavishly detailed, sometimes to the point of visual trickery and misdirection. Michele's Gucci is also an abundant shopping experience; he teases a relatively normal number of base products into a seemingly endless array of particular options, which gives everyone an opportunity to feel like they're buying something unique and personal.
Limited editions with limited availability always heighten that feeling, and it's an avenue that's been successful for Gucci lately. The brand released a capsule collection at Net-a-Porter to a near-immediate accessories sell-through in May, and now the brand is back with another gorgeous floral that can only be found via Gucci.com. The collection, dubbed Gucci Garden, featured a bright, warm floral in bags, accessories, shoes and ready-to-wear.
The print fits the Gucci universe perfectly, and the mix of colors makes the bags surprisingly versatile. Take a look at the available accessories below or shop the full collection via Gucci.com. Be careful, though--pieces that this have a tendency to disappear quickly from retailers.
1 / 8
Gucci Garden Ace Sneakers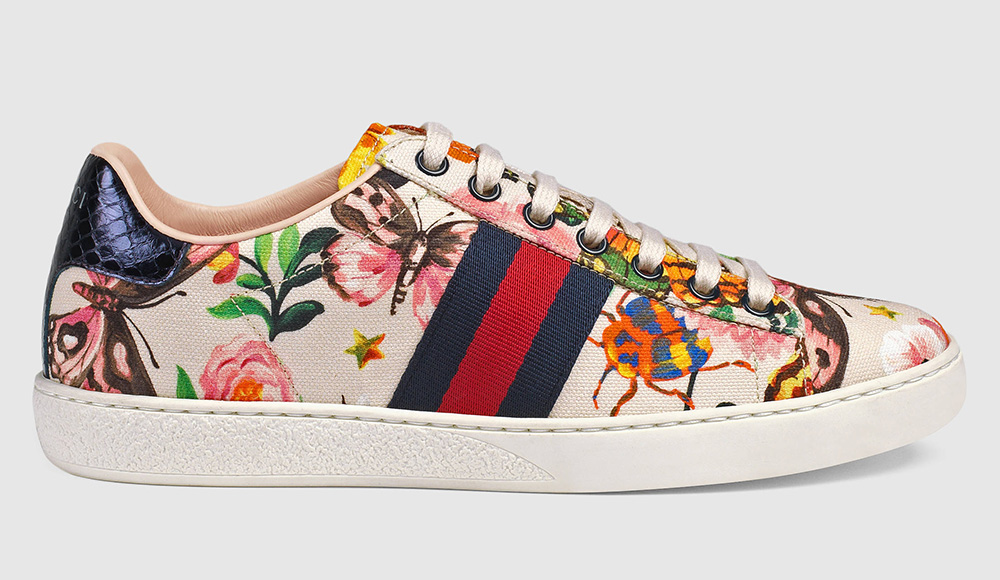 2 / 8
Gucci Garden Dionysus Mini Bag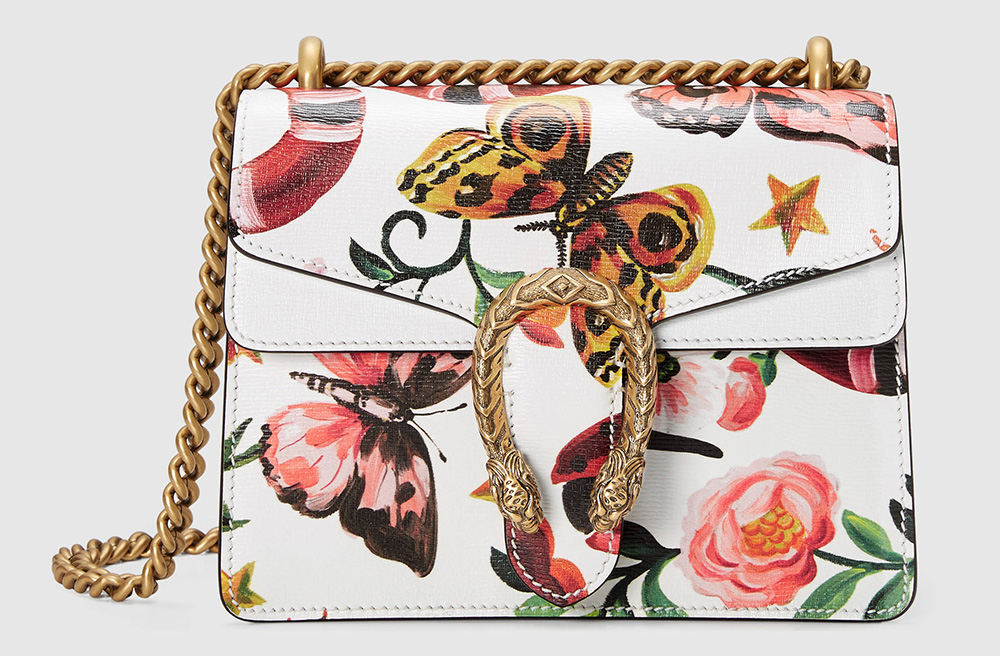 3 / 8
Gucci Garden Dionysus Bag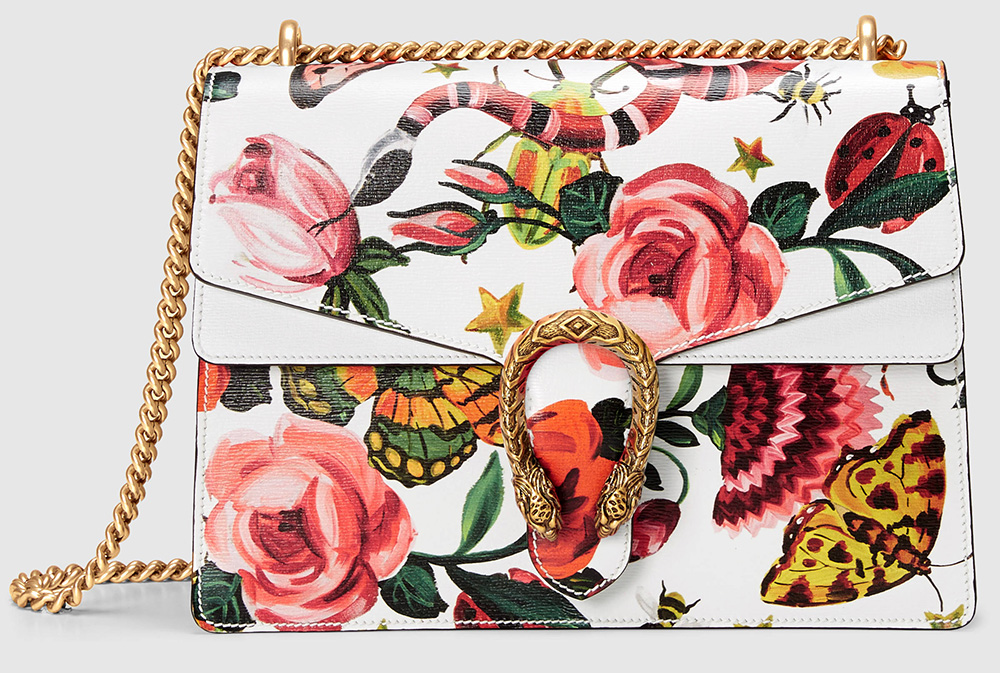 4 / 8
Gucci Garden Dionysus Bag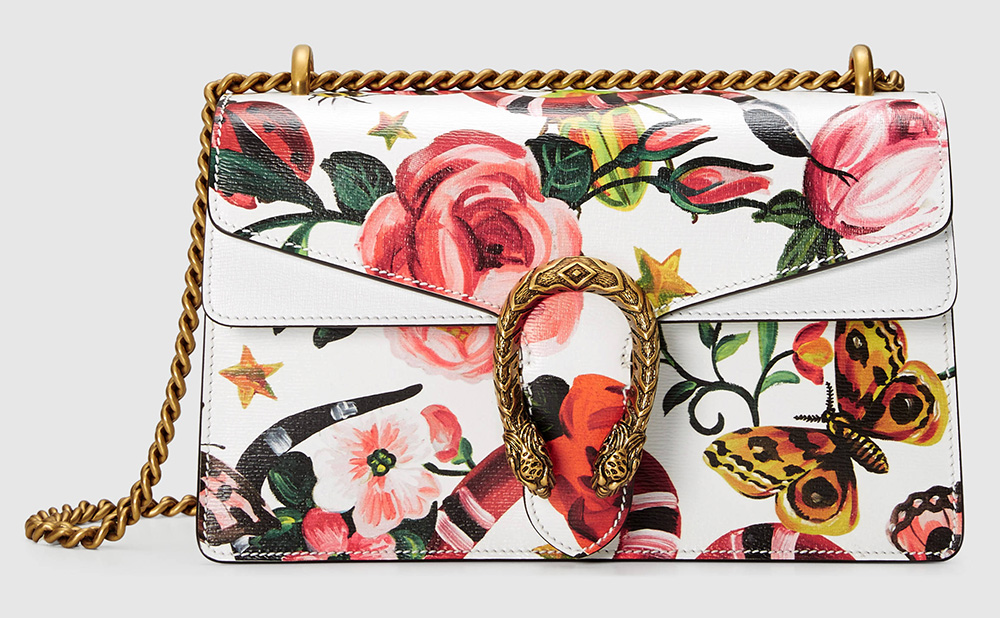 5 / 8
Gucci Garden Princetown Slippers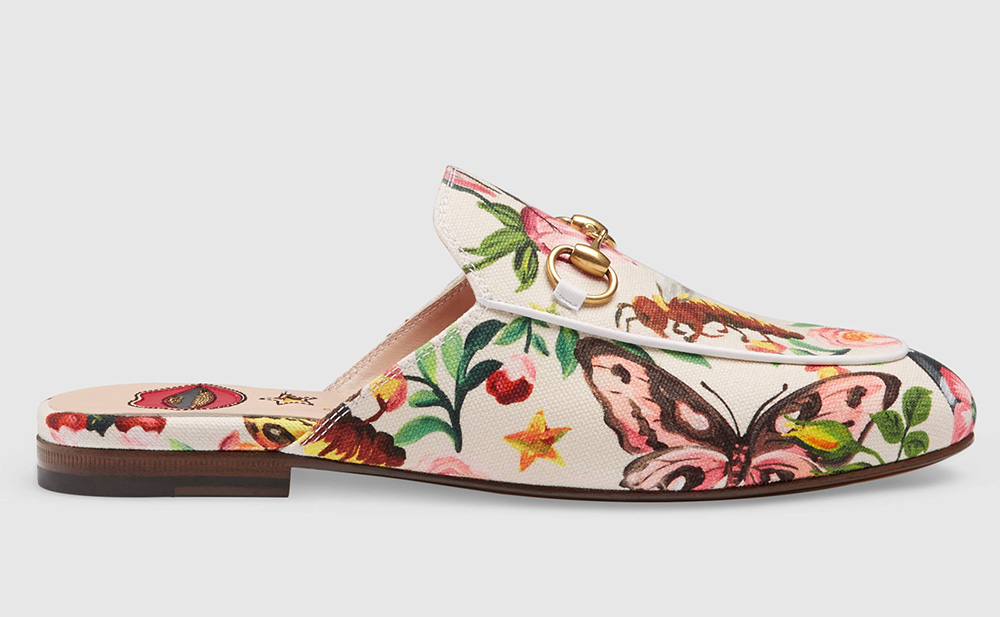 6 / 8
Gucci Garden Silk Scarf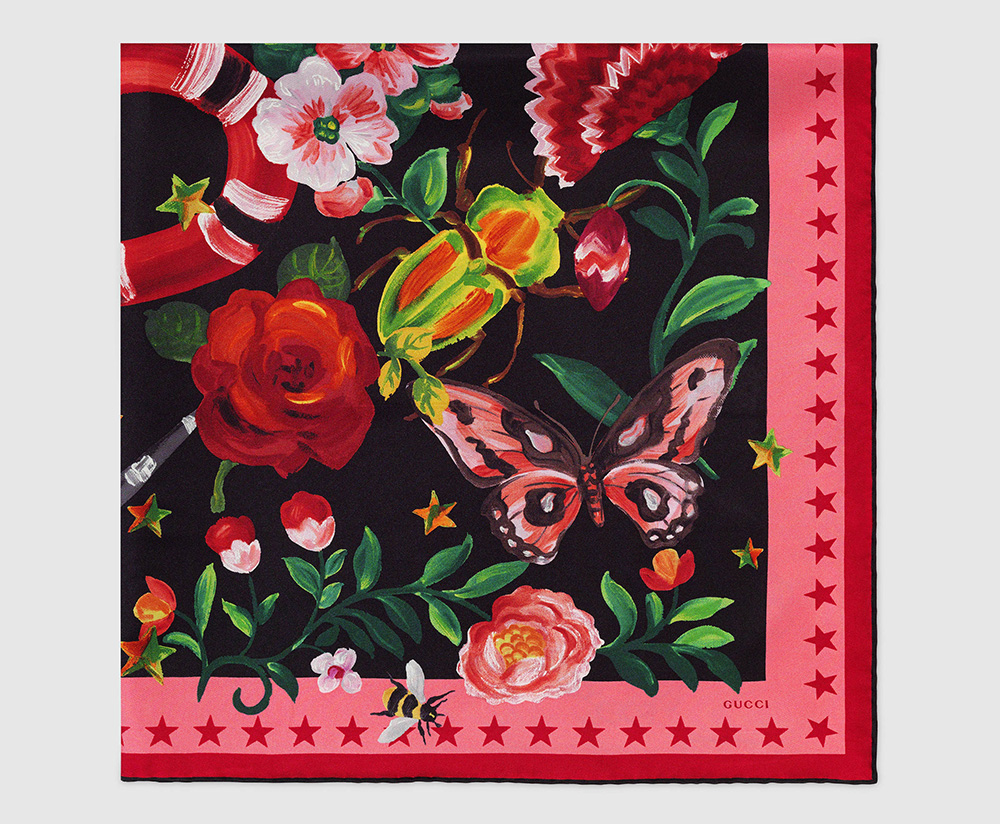 7 / 8
Gucci Garden Silk Scarf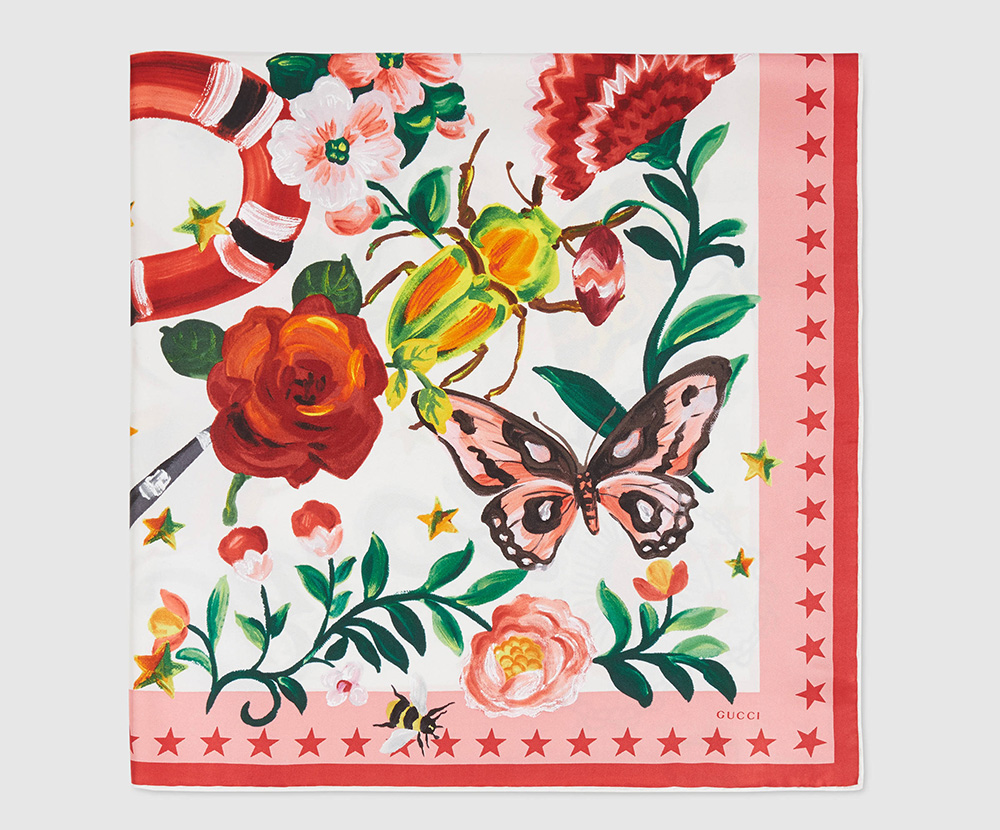 8 / 8
Gucci Garden Zip-Around Wallet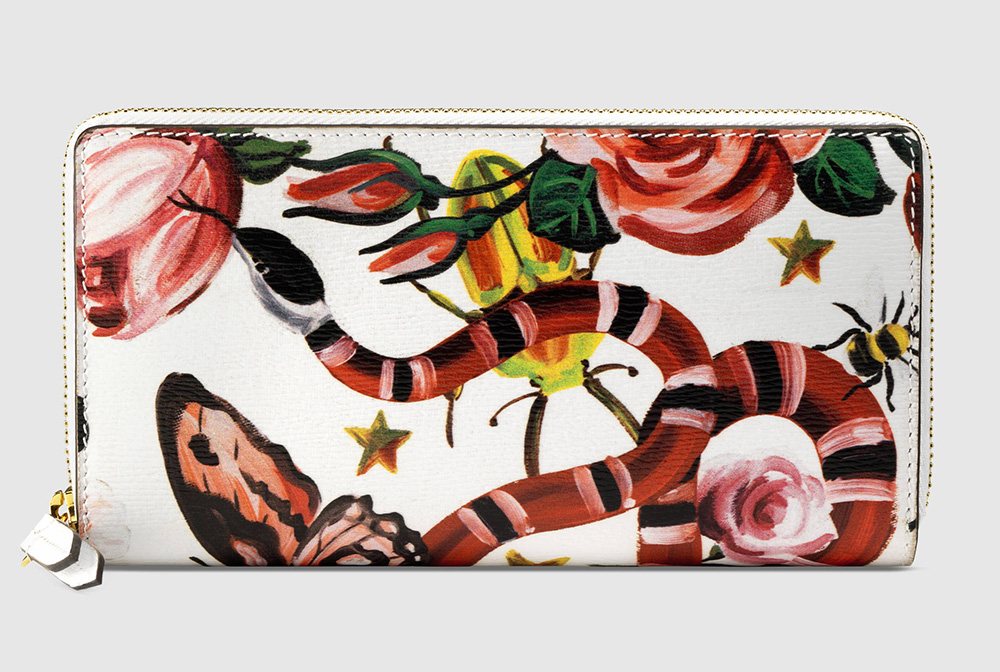 Other Brands
There's a new Chanel Wallet on Chain Bag that's making us happy and is the reason why we are wearing this smile from ear to ear. We are of course talking about the Boy Chanel Chain Around Quilted Wallet On Chain Bag.
We are digging the look of this newest Chanel WOC. And why not? It looks effortlessly elegant and chic in all the right angles. The diamond quilting effect is a trademark for which Chanel is known for and it further does justice to this wallet on chain. The metal blue color is something fresh to look at, the color is actually cool to the eyes.
So what's worth the rave about this Chanel WOC? It has a beautiful CC closure on the front and at the same time it is embellished and even made more beautiful with chains around the edges of the front flap. Talk about owning an edgier WOC and you're sure to rule the fashion world!
Featuring the new boy clasp, the beautiful boyish chain crafted around the edges of the front flap, this is the new thing – a seasonal piece that once you've bought it, it's yours forever. And because it seasonal, you will be one of the few to own it.
The style code for this Wallet is A583221, measuring 4.5' x 7.5' x 1.4' inches, priced at €1950 euro via Chanel boutique.
Tag: Chanel Chain Boy Quilted Around WOC
Other Brands
For a shoulder bag that screams absolute perfection, this Alexander Mcqueen's Insignia Shoulder Bags is just all that. With its pebbled leather in black and detachable shoulder strap, one can conquer the streets of New York and other cosmopolitan cities in the world.
Glamorous, exquisite and of high-end sophistication, this shoulder bag from Alexander McQueen might be your newest bag best friend. Its fold-over flap at main compartment with magnetic press-stud closure gives you easy access, thus no need to fret when you're on a hurry and you need to get a grip of your car keys.
Its monogram accent at face with the letters MAQ gives it the glitz and the glam that it deserves. Yes, sometimes those added embellishments can set a bag apart from all the others out there and we certainly do have a soft spot for these accents.
It might look too small for you but this bag has phone pocket at two-compartment interior. Never let its size deceive you for that instant. It also has a pale gold-tone hardware.
It measures 8.25′ x 5′ x 1′ (L x H x W) inches and is priced $620 USD or €545 euro via SSENSE.
Tag: bag Alexander Shoulder McQueen INSIGNIA
Other Brands
Fendi's Resort 2017 Bag Campaign is everything we ever hoped for with its large selection of beautifully luxurious and fashion-forward bags. It looks like Karl Lagerfeld's ingenious and creative ideas are brimming at the seams and they came to life at Fendi's latest campaign.
Let's roll out the red carpet for this newcomer which will surely be a hit once it lands on Fendi's boutique stores.
We are predicting that this white bejeweled shoulder bag will sell out fast like hot pancakes for its rich and vibrant virtual appeal.
A white bag is the ultimate accessory any season so make sure you have this style staple hanging in your closet. Yes, it could be your go-to bag at any time of the day whether you go out for an early English breakfast, catch up with your girlfriends over lunch or go on a romantic dinner with your special someone.
Right next to our list is this newest Baguette bag. Yes, look closely since this is a baguette bag, but more like it got the makeover that it deserves.
The Baguette is Fendi's "holy grail" and "most sought-after" bag. This time around, we don't know what words to use to describe it since its ethereal beauty can't seem to fit into words. But we'll try our best.
The newest Baguette is sporting a dual color in red and white with a triangle pattern around it. It's like a breathe of fresh air, breaking from the traditional design that it is known for.
Other Brands
Can we be 100% honest here? This Chanel Pearl Wallet On Chain Bag looks like the kind of bag that classic ladies such as Audrey Hepburn, Elizabeth Taylor, and Katharine Hepburn would be seen wearing.
You read that one right. This wallet on chain bag is so pretty that we couldn't contain our happiness upon seeing this one. If you were opting for a chic yet classic look without sacrificing style, this would be that one bag that you'll gladly get your hands on.
The Chanel Pearl Wallet On Chain Bag exudes an aura of sophistication. The pearl -like accent on the middle with the CC logo made it all the more beautiful. Yes, it's a definite eye candy that's worth of other people's stares.
It is made up of lambskin, metallic calfskin, gross grain and light gold metal and black & light gold and measures 4.6′ x 7.6′ x 1.4′ inches, priced at €1830 euro via chanel boutique.
Tag: Chanel bag Chain Wallet PEARL ON
Other Brands
I love this point in sale season. Second markdowns have been taken, people who are satisfied with 25% or 30% off have snatched up their bags, and now the real bargain-hunting can begin. It's a bigger challenge than earlier in the season, of course, but the reward is high if you have the fortitude to hold out this long. Below, check out the deepest discounts we found on the most highly coveted bags available right now; you won't regret it.
1 / 20
Bottega Veneta Convertible Satchel

2 / 20
Bottega Veneta Knot Clutch

3 / 20
Bottegta Veneta Shoulder Bag

4 / 20
Chloé Faye Small Bag

5 / 20
Chloé Hudson Studded Bag

6 / 20
Chloé Hudson Tassel Bag

7 / 20
Coach Dinky 24 Crossbody Bag

8 / 20
Fendi Petite 2Jours Tote

9 / 20
Fendi 3Jours Bag

10 / 20
Givenchy Nightingale Bag

11 / 20
Givenchy Nightingale Bag

12 / 20
Givenchy Pandora Bag

13 / 20
Proenza Schouler Medium Nylon PS1 Bag

14 / 20
Saint Laurent Sac de Jour Baby Bag

15 / 20
Saint Laurent Studded Sac de Jour Baby Bag

16 / 20
Saint Laurent Suede Fringe Monogramme Shopping Tote

17 / 20
Valentino B-Rockstud Shoulder Bag

18 / 20
Valentino My Rockstud Tote

19 / 20
Valentino Rockstud Camera Bag

20 / 20
Valentino Trapeze Tote

Categories

New Posts

Hot Posts