Other Brands
IMAGES: GUCCI
Move over, Disneyland. Gucci's first standalone store in Southeast Asia just for the little ones has just opened at Marina Bay Sands and it looks set to be any kid's (or adults who refuses to grow up) dream fantasy come true. Styled entirely just like the stores for the grown-ups, this one for children is described as the Italian luxury house's take on the Gucci universe through the eyes of a child. In other words, expect gorgeous graphic interiors that looks like a giant playroom filled with the most eclectic pieces of furniture.
Stocking everything you'll ever need for baby all the way to teenagers, this is the place to hit if you want to have little Josh or Sophie looking like mini-mes living the #guccilyfe, from cotton sleep suits to polo tees and even tiny blazers for the boys to baby dresses, cotton tees and even embroidered tulle skirts for the girls.
IMAGE: GUCCI
There are tiny bags, there are the cutest shoes, there's even an irresistible selection of baby blankets and throws in the most beautiful of Gucci prints that no adult will be able to resist. Trust me. Located at the far end of Marina Bay Sands above the skating ring, there's nothing to not love about this adorable little store, whether you're a kid or a kid at heart.
Tag: Gucci
Other Brands
Perhaps the most important thing creative director Alessandro Michele has brought to Gucci during his short tenure at the brand's helm is a feeling of abundance. His collections are enormous, his lookbooks are rich in set detail and styling and the clothes and accessories themselves are lavishly detailed, sometimes to the point of visual trickery and misdirection. Michele's Gucci is also an abundant shopping experience; he teases a relatively normal number of base products into a seemingly endless array of particular options, which gives everyone an opportunity to feel like they're buying something unique and personal.
Limited editions with limited availability always heighten that feeling, and it's an avenue that's been successful for Gucci lately. The brand released a capsule collection at Net-a-Porter to a near-immediate accessories sell-through in May, and now the brand is back with another gorgeous floral that can only be found via Gucci.com. The collection, dubbed Gucci Garden, featured a bright, warm floral in bags, accessories, shoes and ready-to-wear.
The print fits the Gucci universe perfectly, and the mix of colors makes the bags surprisingly versatile. Take a look at the available accessories below or shop the full collection via Gucci.com. Be careful, though--pieces that this have a tendency to disappear quickly from retailers.
1 / 8
Gucci Garden Ace Sneakers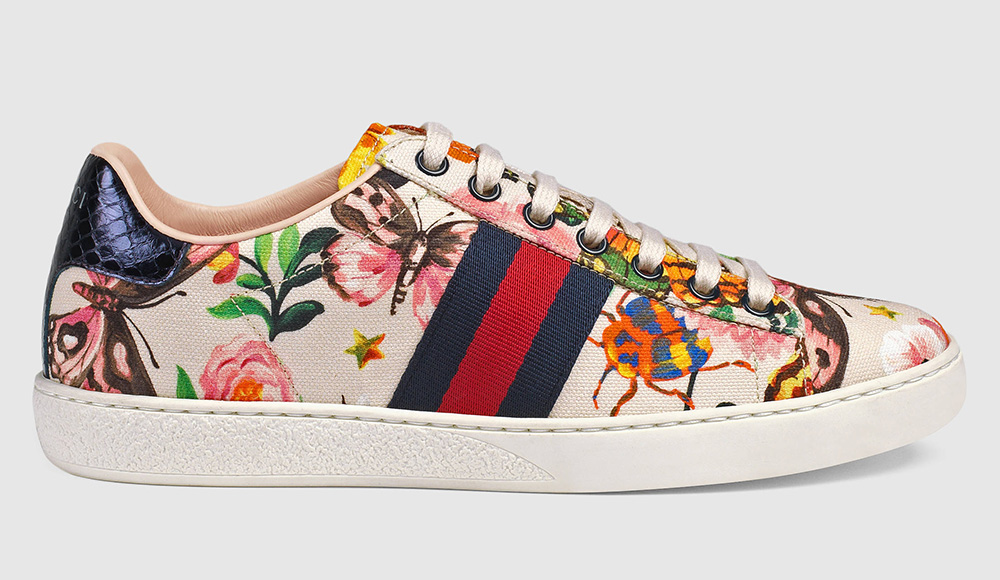 2 / 8
Gucci Garden Dionysus Mini Bag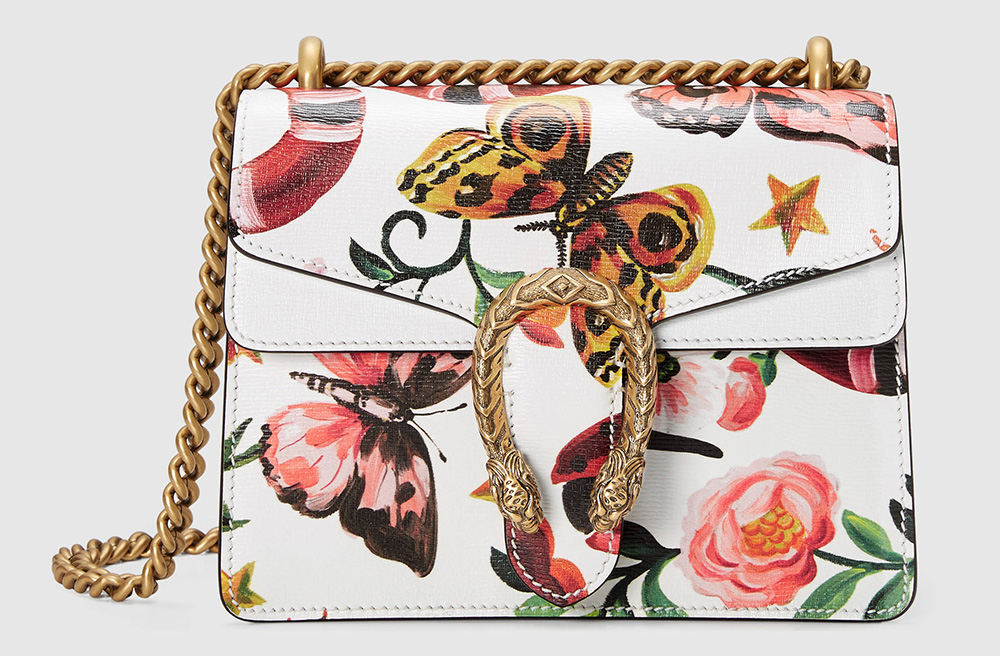 3 / 8
Gucci Garden Dionysus Bag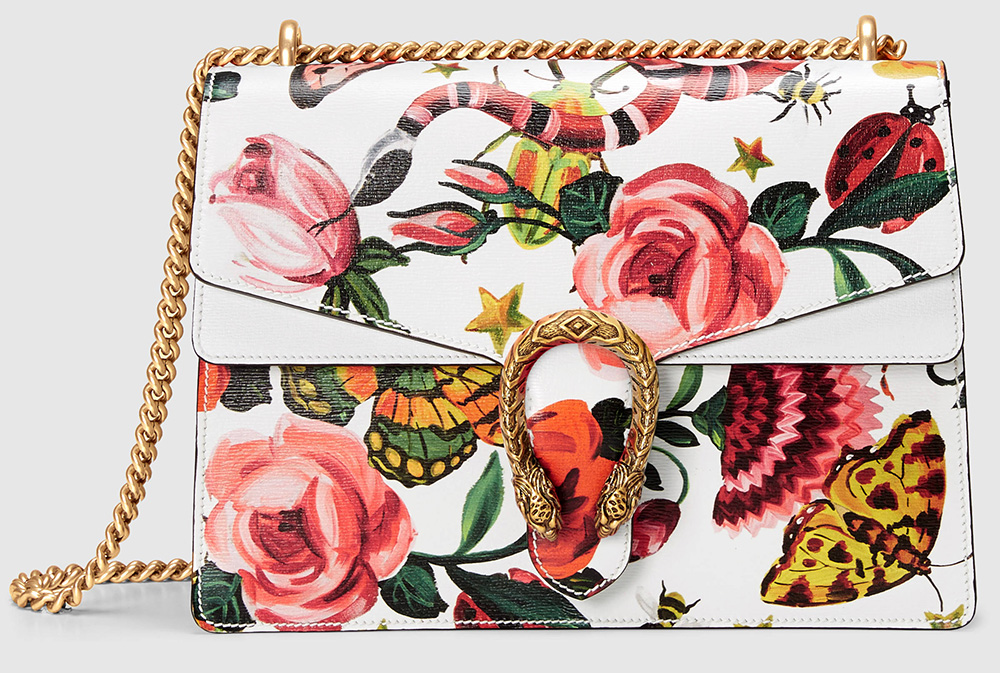 4 / 8
Gucci Garden Dionysus Bag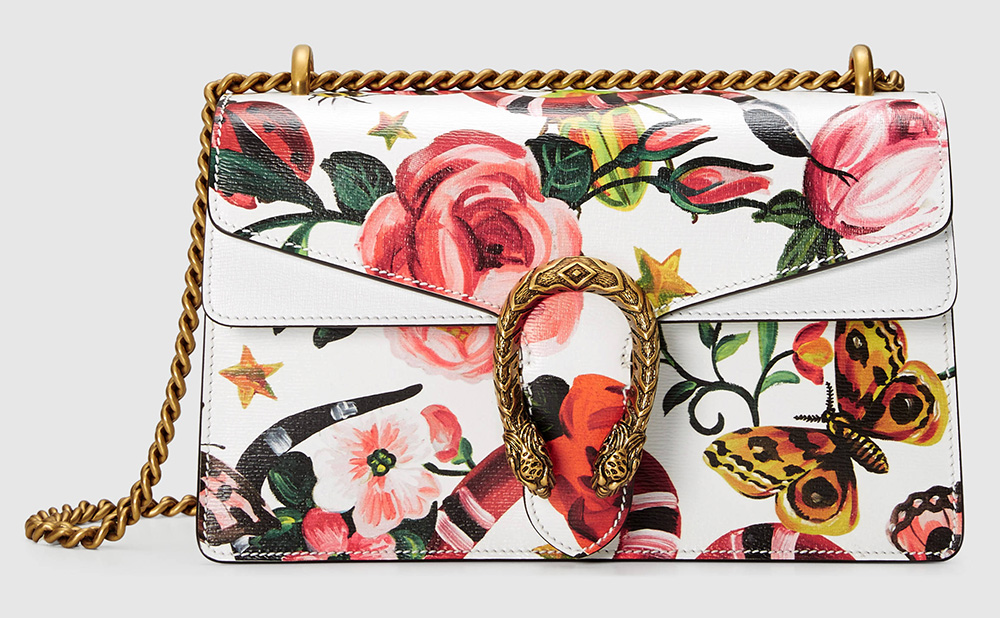 5 / 8
Gucci Garden Princetown Slippers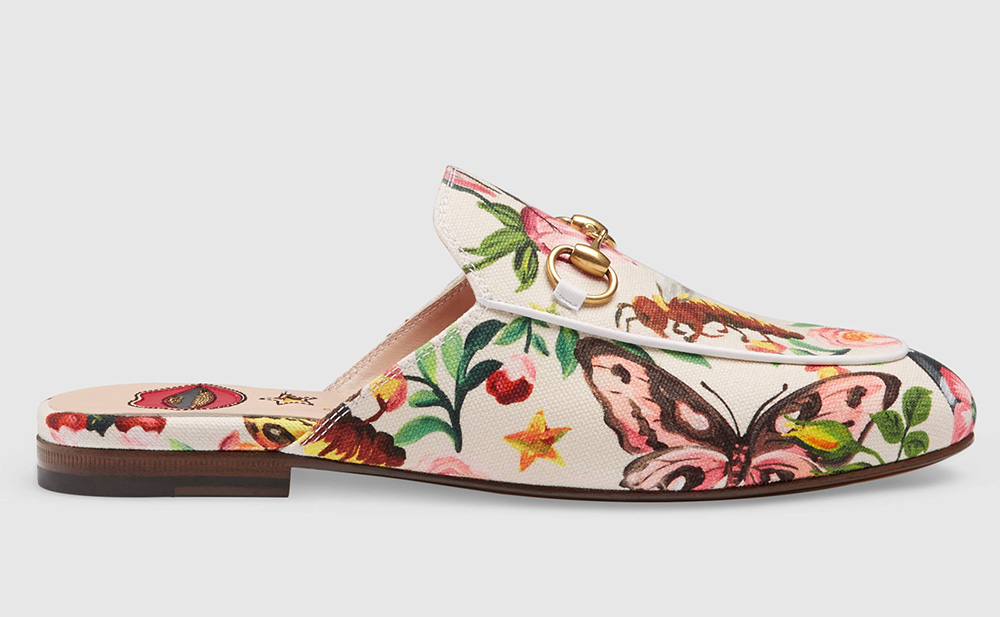 6 / 8
Gucci Garden Silk Scarf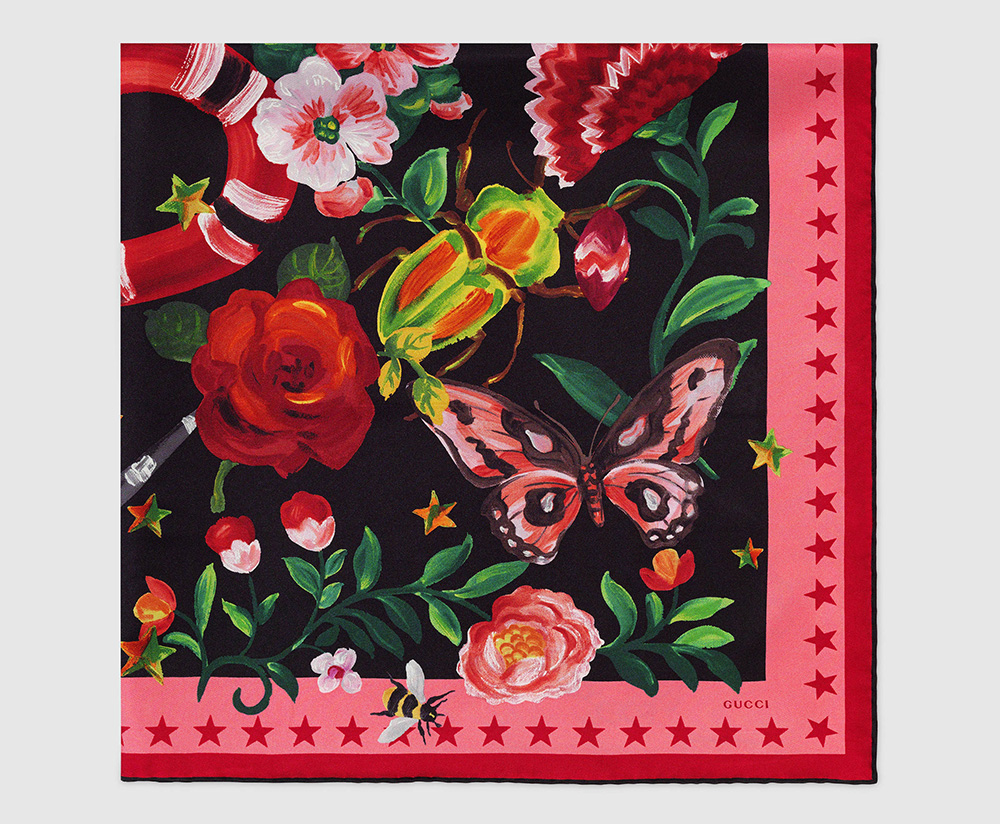 7 / 8
Gucci Garden Silk Scarf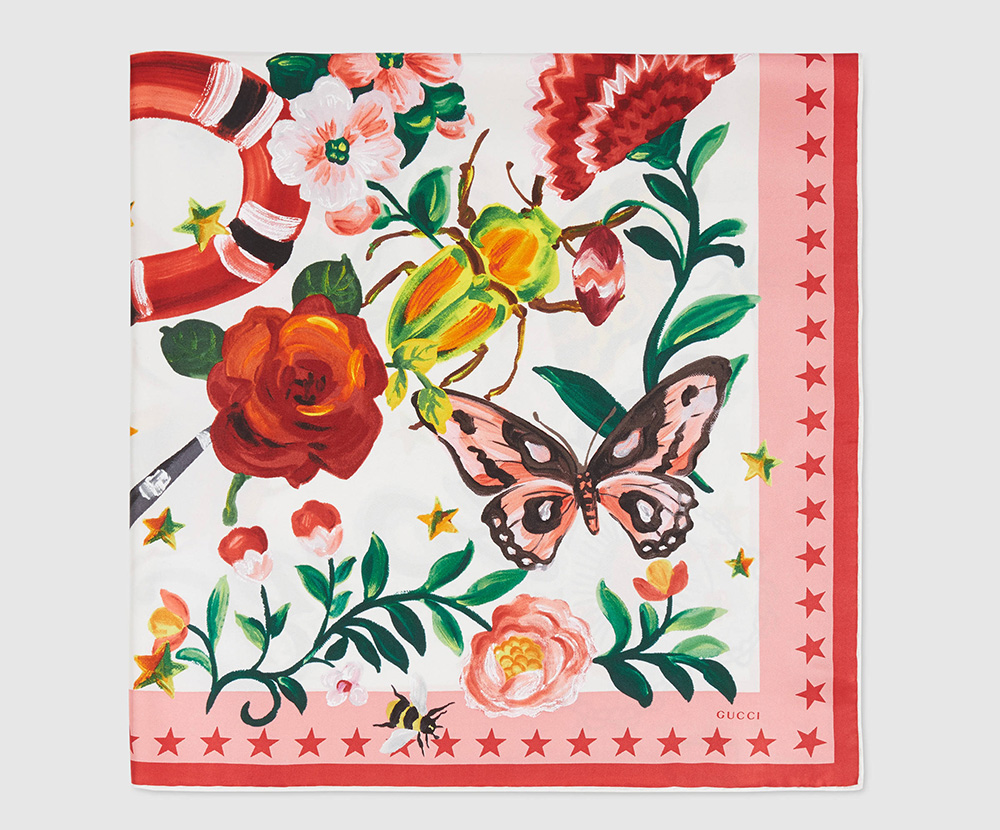 8 / 8
Gucci Garden Zip-Around Wallet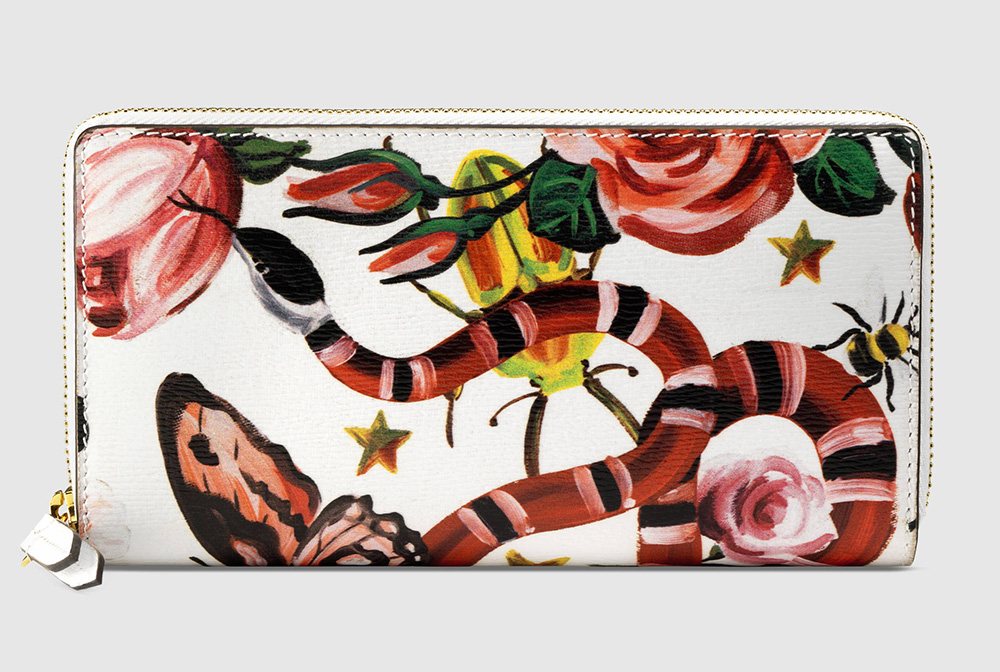 Gucci
It's no secret that designer Alessandro Michele is fond of all that comes from the botanical world. From purses to clutches to foulards, when it comes to prints he loves to showcase all the beautiful gifts we got from Mother Nature. No wonder why, for his Gucci Garden online-only 2016 capsule collection, he took all that one may find in a beautiful and colorful garden just to put it in an appealing array of designer pieces that will only be sold exclusively online (starting from July 5th).
In the wake of the success of Gucci's first-ever capsule collection in collaboration with Net-a-Porter (the collection was sold out in less than a day), Alessandro Michele took the time to design a new range of limited-edition pieces to test whether the label's new website is equally successful and appealing or not. The Italian luxury house's website got a makeover back in October last year, to better reflect the fashion designer's visions of fashion.
As for the Gucci Garden 2016 collection in and of itself, it has been exquisitely designed with the sole purpose of pleasing and treating its onlookers. All these capsule pieces are here to take us out on a chilling date or on an outing with friends, reading and relaxing under a tree's shadow.
Romantic and cheerfully colorful, the collection has it all, from varsity jackets to sneakers, from pleated A-line skirts to mules and sweaters. Everything is meant to be layered and played with, and will surely appeal to those, who like Michele's way of intertwining completely different patterns and geek-chic styles with one another.
Although exuding Gucci's signature sophisticated style, the Gucci Garden 2016 capsule collection is not only ready-to-wear, but also features pieces that are closer to street style (a multi-colorful kind of street style) rather than haute couture. From reversible zip-up bombers to shorts, the entire line-up elegantly veers towards a younger audience, playing with stars, snakes, flowers and colorful contrasting hems.
There are, however, also essential wardrobe staples that won't fail to make anyone stand out of the crowd with their simplicity. Try combining one of those pleated frocks with any of the line-up's maxi-cardigans, for instance! As a result you get an effortless chic look that will show off your unique personality.
As for the accessories, Alessandro Michele translated the whole 'Gucci Garden' concept to the iconic Dionysus bag, which comes in three different sizes. There's a zip-around wallet too, which is probably going to be the first piece to fly off Gucci's online shelves very quickly.
Tag: Gucci
Other Brands
The Soho Bags have always been a part of Gucci's Classic Collection. Who doesn't remember the Soho Disco Bag, its name inspires night-outs – with compact size and go-to-ease.
Now Gucci introduces the Soho Tote Bag – it's like the disco but then much bigger and practical without sacrificing style. The large interlocking GG logo crafted on the front makes it timeless, it begs to be worn season and season again. Embellished with a leather tassel, it comes with a chain strap for shoulder carry. Its flexible and the size is perfect for carrying all your personal items and so much more.
Made in Italy, the leather tassel can be removed whenever you wish to. It closes with an inside hook closure, built from natural cotton linen lining inside and made from light gold hardware.
It's available in light pink, red, white, black, patented, brown and more. Measuring 15' x 10.6' x 5.5' (W x H x D), priced at $1650 USD or €1350 euro's via Gucci boutique or e-store.
Other Brands
So you love everything 'Classic', meet the brand-new Gucci Ramble Original GG Canvas Tote.
This bag was featured in the Gucci Cruise 2015 Ad Campaign, its basically an L-size bag for the woman with a busy lifestyle.
I love the 'GG Canvas' with nut brown leather detailing, you know, this style reminds you of the designer brand. Just like the Monogram Canvas of Louis Vuitton, or the Damier Canas, or the Cannage Stitching of Dior, or the Quilted Black Bags of Louis Vuitton.
Besides its look, it got some pretty neat functionality too. And the size is lovely – with interior zip and smartphone pockets, extended double zip closure with leather pulls, and it's a size to fit your daily essentials including your MAC book pro.
Though it comes with an adjustable shoulder strap, I will just stick with the strong leather handles. It's also embellished with extended double zip closure with leather pulls. The edges are hand-painted and it's refined with palladium hardware.
Measuring 16.3' x 12.5' x 8.2' (W x H x D) inches, its priced at $2,900 USD.
For those who want a different color, it's also available in bicolor but brown leather and light green leather detailing. It's the same size, but the price is $3,300 USD.
Tag: bags Gucci Tote Canvas GG Ramble Original
Other Brands
This stylish and luxurious hand bag should be a style staple in any woman's equally posh wardrobe. We are talking about Gucci's Dionysus GG Supreme Mini coated canvas and suede shoulder bag that is a mini-me version of the already famous Dionysus bag. Look extra feminine and chic with this Mini Dionysus bag as it features a taupe canvas that is sophisticatedly adorned with the brand's iconic GG emblem and finished off with a fancy silver-tone tiger heads to the front fastening.
Carry it with you anywhere you go and people will absolutely take notice. Pair it with your candy-colored cashmere cardigan over an acid washed jeans or a pencil-cut skirt and you'll look extra fabulous. Here are some of the features about this bag: made in Italy, with suede lining, made up of fabric, calf leather, with chain shoulder strap and push-lock fastening.
Measuring 15 x 20 x 6 cm (H x W x D), priced at $1550 USD or €1200 euro via Luisa Via Roma.
Tag: Gucci bag Shoulder Mini DIONYSUS GG
Designer Bags, Wallet, Purse, Belt & Accessories Official Site, Best Price & Quality, Free Worldwide Shipping, Free Returns. Each Bag Is A Work Of Art - Handmade - Cowhide Art - Can Custom-Made

Categories

New Posts

Hot Posts